Pigger Cream
High protein quality for vital piglets
Pigger Cream is a palatable liquid ready-to-use UHT that is based on food grade dairy ingredients to ensure the highest protein quality and thus a highly digestible product. The high dry matter content (37.5%) supports dry matter feed intake, which improves functioning of the digestive system. Pigger Cream is designed for all piglets, and is given directly after the colostrum in addition to the sows' milk. The product has an exceptionally long shelf life of twelve months unopened and eight weeks opened. There is no need to add water as the product is delivered in a liquid format which safeguards a hygienic product and guarantees ease of labour.
Pigger Cream features
Palatable liquid ready-to-go UHT milk
Maximum growth
Highly digestible for young piglets
Pigger Cream benefits
High dry matter intake
Easy to apply
Sterile water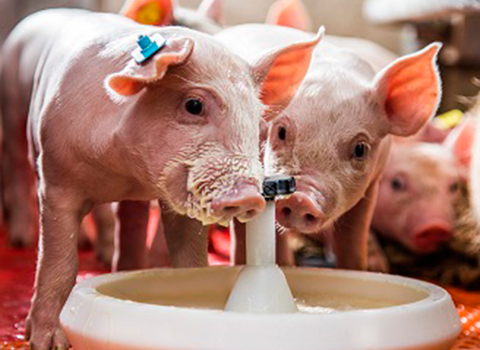 Packaging
Pigger Cream is packed in a Bag-in-Box: a vacuum plastic bag inside a cardboard box. The plastic bag protects the exceptional nature of the product optimally. A tap in the box allows the milk to be poured either manually or automatically. The size of the packaging varies according to the chosen application. Pigger Cream can be applied in all kinds of feed applications (through cup-systems and Pigger Feeder), as it is a natural product with a similar viscosity as milk.